Drake Says He's Been 'Tucked Away Trying to Finish An Album'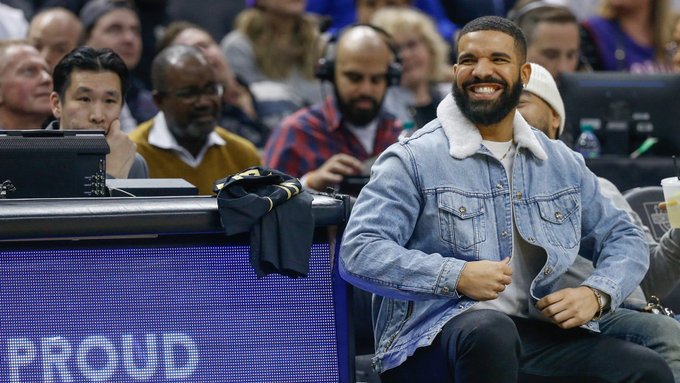 Drake sat courtside Friday night to see the Toronto Raptors go up against the Phoenix Suns, and he confirmed during the game that he's started work on a new album. In between his usual courtside antics, which included salsa dancing this time around, he was interviewed about what else he's got going on right now.
"I'm out here, I'm working hard, you know. I'm tucked away trying to finish an album," Drizzy said, before teasing the project further later on. His last studio album was 2018's Scorpion, a double album with 25 tracks. He said Notorious B.I.G.'s Life After Death inspired him to go expansive with Scorpion, but next time around he's looking to make something a little more streamlined.
"My last album was high volume. I had to sorta like ... Notorious B.I.G. put this album out, and the ratio of songs versus just important songs was so incredible that I wanted to set a challenge myself, you know," he explained. "I hate to age myself, but I been doing this 10 plus years as well. Sometimes you gotta set a little target goal for yourself to keep it interesting." 
Explaining the direction for the next album, he indicated it won't have quite as many tracks. "So, last album, I went high volume. It did two sides, 20-something songs, which is a lot of songs. This album, I'll probably make it a more realistic offering, something more concise," he continued. "Anywhere, whatever you want, it can be 10, 11, 16. I also do a lot of different types of music so it's tough to make it like a seven-song album or something like that. Yea, I'm having a lot of fun right now making music."
Following the release of Scorpion, Drake set out on his Assassination Vacation Tour, and ever since then, he's released a small number of tracks. He dropped "Omertà" and "Money in the Grave" featuring Rick Ross last summer, and he delivered one last surprise at the end of 2019 with his drill-inspired song "War." To kick off his output in 2020, he teamed up with Future once again for "Life Is Good."
- Complex